Music plays an important role in the liturgical life of Salford Cathedral.
The Cathedral is home to a family of choirs offering progression routes for singers to make music in our beautiful sacred space.
Our Choral Scholarship programme is a much sought after opportunity for those in tertiary education who wish to develop their sight-reading ability and gain experience in singing a diverse range of choral music in a friendly and high-paced environment.
Recent musical achievements include two BBC Broadcasts in 2021 (Sunday Worship and Midnight Mass both broadcast live on BBC Radio 4) as well as giving the first performances of music written specially for the choir by Amy Summers, Florence Maunders, and Peter Leech.
The cathedral music team also lead the Diocesan Schools Singing Programme which currently reaches over 1,200 children across the Diocese of Salford each week. 
For more information about our Cathedral Music Foundation, please get in touch with the Cathedral Director of Music, Alex Patterson (alex.patterson@dioceseofsalford.org.uk).
Support our work by making a financial donation to our Music Foundation online, or via our Donation Form.
Subscribe to our mailing list here.
Follow the work of the Music Department on our weekly blog or via social media: Facebook, Instagram, Twitter, and YouTube.
---
Upcoming Events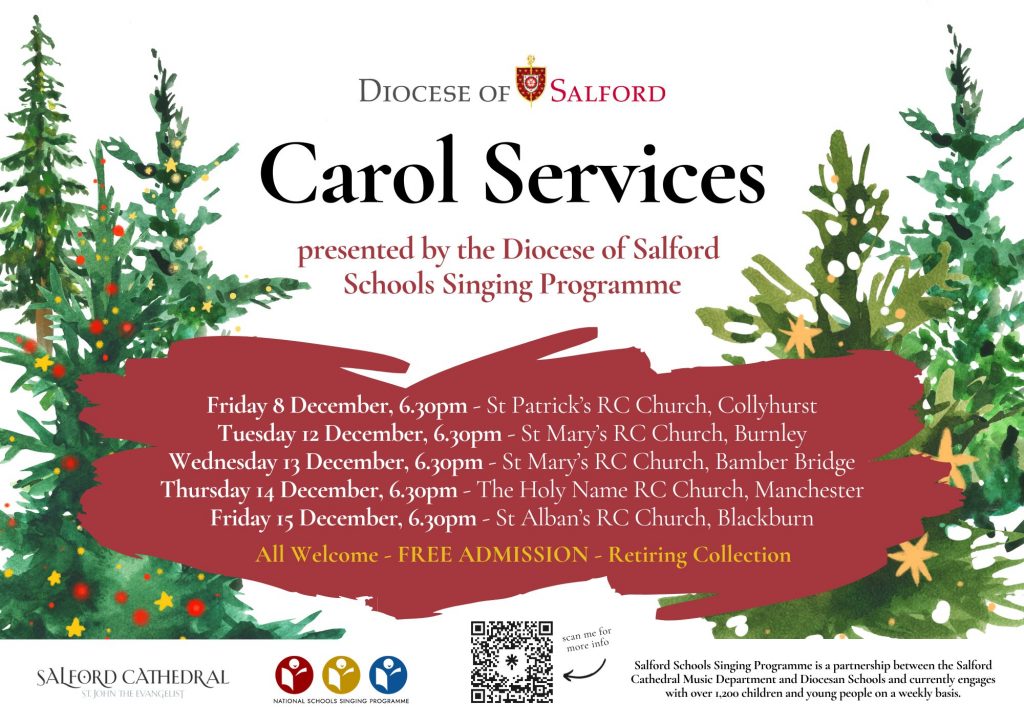 Schools Singing Programme Carol Services
Friday 8 December, 6.30pm – St Patrick's RC Church, Collyhurst
Tuesday 12 December, 6.30pm – St Mary's RC Church, Burnley
Wednesday 13 December, 6.30pm – St Mary's RC Church, Bamber Bridge
Thursday 14 December, 6.30pm – The Holy Name RC Church, Manchester
Friday 15 December, 6.30pm – St Alban's RC Church, Blackburn
Read more here.
---
Music List
Please see our music list for full details of our sung liturgies.