Our major Cathedral Restoration Project is well underway. The restoration works are part of a masterplan ahead of the 175th Anniversary of the Dedication of the Cathedral in 2023. The project aims to revive the iconic splendour of this church whilst making it the most sustainable cathedral in the country.
Works Carried Out Since 2016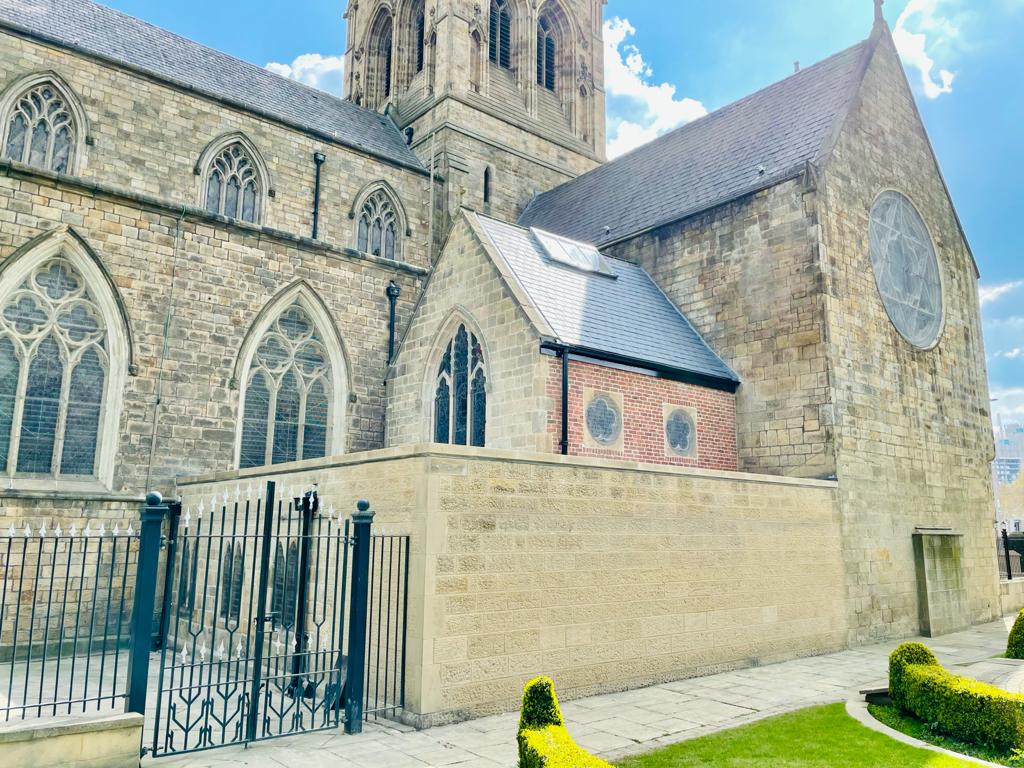 The Cathedral is a Grade II* Listed Building and its restoration masterplan incorporates the limitations this can result in. The plan also evidences the way in which we have grown to understand historical buildings in a different way over the last few decades. Those involved in the Cathedral Restoration Project are learning to work with the building to enhance the fabric and reintroduce some of the lost aspects of the cathedral, restoring its former glory.
Working with architects Arrol and Snell, the decision of what needed to be completed first came after a quinquennial survey of the building. The first stage of the project was been made possible by a two grants from the First World War Centenary Cathedral Repairs Fund, allowing for a full restoration of our very special WWI Memorial Chapel in 2016. A later award of £373,000 allowed crucial roof repairs to take place and a further £180,000 allowed us to create an alternative entrance (the north door) and piazza, improving accessibility.
As a result of these awards 2018 saw the reroofing of North Isle of the Cathedral, significant repair to stonework and new flashings, ridge tiles and gutters installed. Crucial to this first phase of work was incorporating access to the roof so that it is easier to maintain the fabric of the structure in the future. On 28 November 2021, we announced our plan for a full restoration. You can read about this here.
Restoration Phase 1: External Works
We are working closely with architects from Purcells, and have recently carried out an information session concerning Phase 1 of the works. During this information, several information boards were displayed in the cloister, showing many photos, architectural drawings, and concept artworks. These boards are now on display for the near future to the right of the cathedral's entrance (behind the desk). We have provided feedback forms on the cathedral desk in case there's anything you would like us to consider. You can also email individual queries to communications@salfordcathedral.co.uk.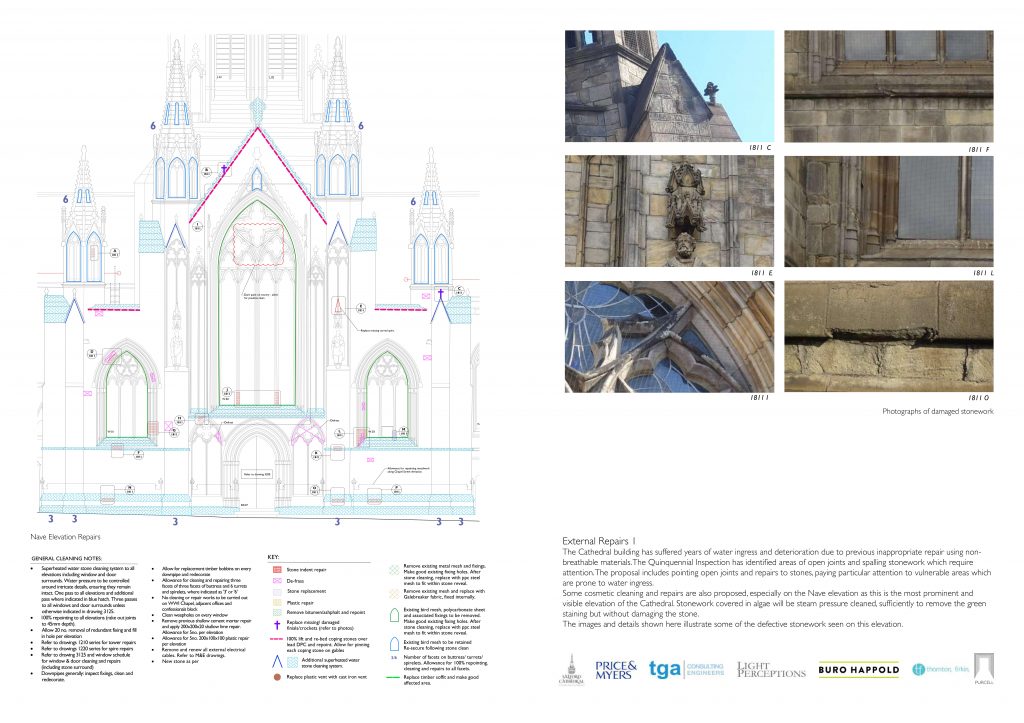 You can see the information boards and read in more detail about Phase 1 of the works here. This phase concerns external repairs and restoration works, including:
The refurbishment of the roof and the introduction of insulation below the new roofs.
Structural repairs and improvements to the tower.
Repair and replacement of the external walls, windows, doors, and rainwater goods.
The window glazing and lighting will also be improved throughout this phase:
The introduction of secondary glazing to all windows in the Cathedral.
New external lighting.
Sneak Preview of Interior Works