Salford Cathedral is a welcoming parish providing a peaceful community space within the bustle of Chapel Street. It's also a site of historical significance. If you volunteer with us, you'll gain access to both: a warm welcome, and a beautiful building with an important story to tell.
If you are interested in volunteering with us, please fill out this google form.
Find out more below or contact our Volunteer Coordinator Maura Pasini at: 0161 817 2215 or email at: maura.pasini@dioceseofsalford.org.uk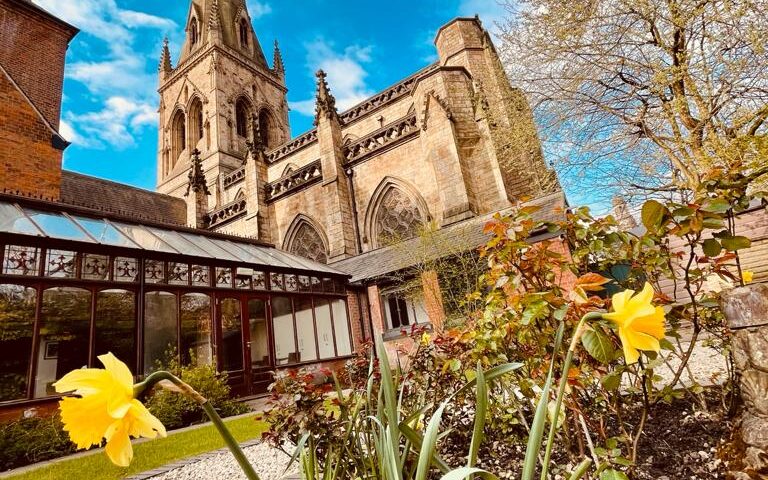 Welcomer
As a Welcomer, you will be the first person visitors see when walking through the door! If you're enthusiastic, reliable and love to chat, then you're perfect for this role. Welcomers are very important to Salford Cathedral – they provide a positive start to every visit and give us an accurate picture of how many people come to the cathedral each day. You would look out for all our visitors, answering queries and making sure everyone has the best experience they can in Salford Cathedral.
Hospitality Support
This is a crucial role for the functioning of Salford Cathedral. After our events, attendees gather in the cloister or assembly room for refreshments. This is a time for people to come together and reflect. As a hospitality support volunteer, you would be responsible for serving refreshments to cathedral guests, making sure the area is clean and tidy for the next set of guests. We need your help to ensure that all our guests leave feeling positive!
Gardener
We're so proud of our gardens and ornamental areas around the cathedral estate. As a volunteer gardener, you would be responsible for the first impression we give of the cathedral, with the chance to use our resources to create and maintain beautiful displays. You would also be responsible for making sure the gardens and perimeter of the cathedral are kept safe for all visitors, making sure their experience of Salford Cathedral is the best it can be. Our gardens are peaceful places – if you're looking to get out into nature and relax, to hone your gardening skills, then get involved!
Tour Guide
Do you love history and architecture and want to put that interest into action? look no further than this role! Our tour guides immerse themselves in Salford Cathedral's history and impart their knowledge to others. You will learn to tell the story of the building, keeping the knowledge alive and getting visitors as excited about the cathedral's rich past as we are. Tour guides are a key part of the visitor experience, as they allow our guests to interact more deeply with the building, taking away some fascinating facts and interesting details about this important site in Salford. You will engage visitors with your expert knowledge, helping to make their time in Salford Cathedral as enjoyable as possible!
Creating a Safe Environment for Everyone
All our volunteers are subject to Diocesan Safeguarding Practices. This is to maintain the wellbeing of everyone who visits or works within Salford Cathedral, particularly children and vulnerable adults. All cathedral volunteers are expected to contribute to the creation of a safe environment, challenge inappropriate behaviours and report concerns in line with procedures. Find out more here.