Wednesday 20th July marked the Silver Jubilee of our Cathedral Dean, Fr Michael Jones. Fr Michael was ordained 25 years ago to this day, on Sunday 20th July 1997 at St Peter's Church, Stalybridge. St Peter's Church and Salford Cathedral share the same architect, Matthew Ellison Hadfield, and Fr Michael has always felt a connection to our beautiful cathedral, often passing it on the way to visit family as a child.
Fr Michael studied at the Royal English College, Valladolid, for a year, before returning to England to complete his training.
During his 25 years as a priest, Fr Michael has served in several parishes and varied ministries, spending 13 of the 25 years here at the cathedral firstly as an assistant in and then returning as our Cathedral Dean. In this role he accepted the responsibility of being parish priest to our large, diverse congregation, as well as heading up our cathedral's place as the Mother Church of the Diocese of Salford.
He has also served as a Hospital Chaplain, a Prison Chaplain, Director of the Diocesan Pilgrimage to Lourdes, and National Chaplain to the YCW (Young Christian Workers). In 2018, Fr Michael was appointed as a Diocesan Trustee.
These photos show Fr Michael's ordination in 1997: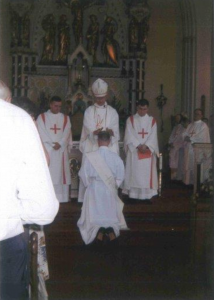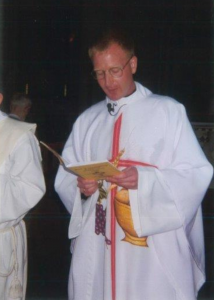 On Saturday 23rd July, our parish marked Fr Michael's amazing achievement with a special Mass and a celebration afterwards. It was a great opportunity to thank Fr Michael for all the hard work he puts in to make sure our cathedral is a welcoming, worshipful and glorious space for all. During his homily, Fr Michael thanked his brother priests, the congregations to whom he has ministered, and his family. Fr Michael stressed how important his family is to him, and how pleased he was to see his extended family at the celebration.
We wish Fr Michael the very best on his Silver Jubilee, and for his future years serving God and our privileged community!