Nightfever is an evening of prayer, music, adoration, opportunity for reconciliation, and street mission. It takes place on the last Friday of each month, from 7:30-10pm. We were privileged to spend some time in this peaceful atmosphere on Friday 29 January, chatting to our parish's Legion of Mary volunteers like Caroline Oguntade, who leads the event. Volunteers like Caroline spend the evening standing on Chapel Street, inviting pedestrians into our cathedral to light a candle, say a prayer, and experience Christ.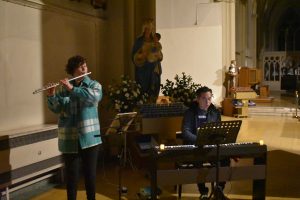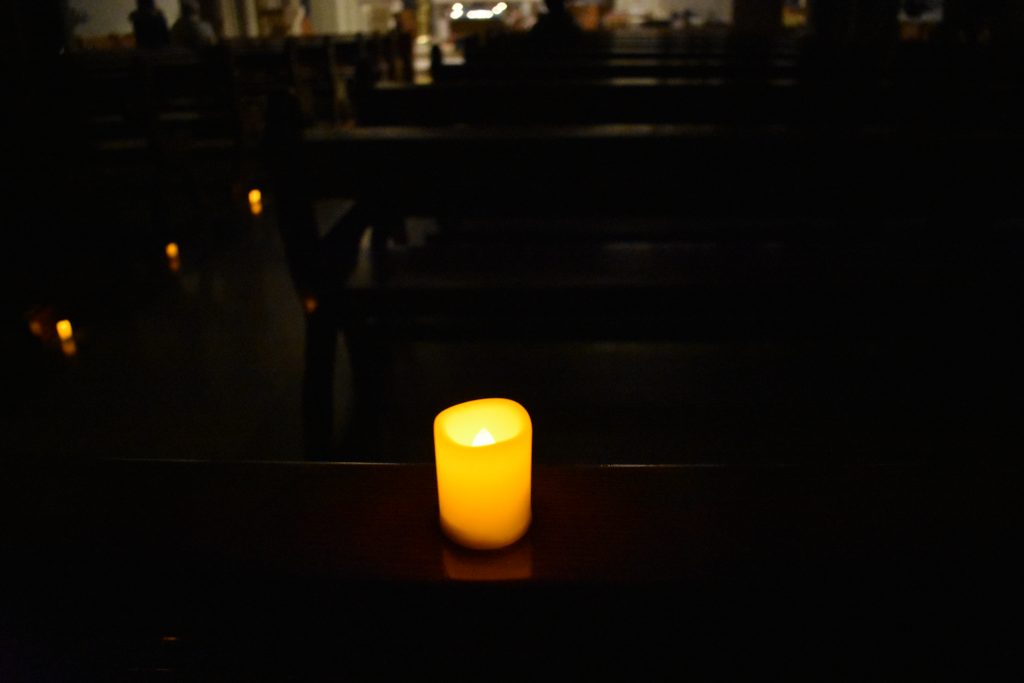 Caroline told us that the spirit of welcome is key to Nightfever's unique mission within our parish.
'It's an opportunity for us to be present on the streets, outside of the church, not sheltered by the walls of the church, or talking to people we already know; we're talking to complete strangers.
They could come from all walks of life, they could be of all sorts of other religions, and everyone is welcome. I just feel like that's so special. We've stopped so many people from other religions – Hinduism, Judaism, Islam, and they just ask "am I allowed to go in?" and we say "Everyone is welcome! Christ welcomes everyone".'
What Happens During Nightfever?
Nightfever begins with Holy Mass, going straight into Exposition of the Blessed Sacrament. There will then be an opportunity for reconciliation, or just a chat with a priest at the back of the cathedral. This is done by candlelight, usually with beautiful live music played on keyboard and wind instruments. This meditative atmosphere strikes a chord with many of our visitors, even those of different faiths, or none.
After Exposition, volunteers from the Legion of Mary pray together and go out into the night, giving out candles and welcoming people walking past our cathedral.
'There's no heavy obligation, we're just inviting them into the presence of Christ, and more often than not, people come in and they're just so captivated by the presence of Christ that they just stay the whole night with us!'
Get Involved
Nightfever and the Legion of Mary are always looking for new volunteers, both to welcome people on the street and to stay inside the cathedral praying for a spiritual boost to the volunteers on the street. Nightfever allows our volunteers to live out our parish vocation as missionary disciples on the streets of Salford; to share God's love with the people of Salford.
'It's not us they're coming to see, they're coming to meet Christ, but the opportunity to be the vessel, to be the person offering that person that opportunity in that moment makes it super special.'
If you'd like to get involved in this wonderful event, please contact Caroline at: caroline.oguntade@gmail.com or speak to a member of the Legion of Mary after Mass. Make sure to join us for the next Nightfever, on Friday 24 Feb from 7:30pm.