As part of our cathedral's 175th anniversary celebrations, we will be embarking on a pilgrimage to the Holy Land. The pilgrimage will take place from 26 October—2 November 2023. This is an great opportunity to visit holy sites from scripture, experience the historic beauty of Israel and Palestine, and find your spiritual roots in the place where our Christian faith was born.
Cost per person: £1575 sharing, £1875 in single room.
The cost includes return flights from Manchester to Tel Aviv, 1 suitcase (23kg) per person for the air-craft hold. Included also are stays in several hotels:
3 nights dinner, bed & breakfast: 4* Bethlehem Hills Hotel, Bethlehem
2 nights dinner, bed & breakfast: 4* Golden Walls Hotel Jerusalem
2 nights dinner, bed & breakfast: 4* Leonardo Hotel, Tiberias (On the Sea of Galilee)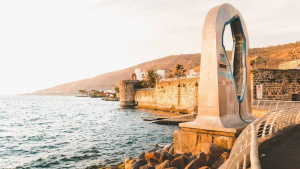 If you would like to find out more about the pilgrimage, there will be an information meeting on Sunday 19 February at 12.45pm, in the Assembly Room of Cathedral House.
All are welcome to attend!