2022 was certainly an eventful year for our cathedral. Read on to see some of our 2022 highlights!
Spring
The first major event of our year was the launch of Salford's Volition Programme in March. This was a wonderful ecumenical opportunity, as Salford embraced Volition's call to help the long-term unemployed. Volition has run successfully at Manchester Cathedral for over a decade, and we're excited to see the impact of the programme in Salford, with a special focus on mental wellbeing.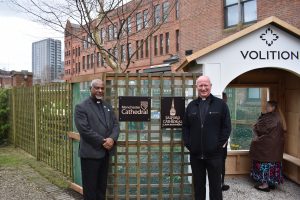 On the Wednesday of Holy Week we celebrated the first post-lockdown diocesan Chrism Mass in our cathedral. This was also the first UK Chrism Mass attended by Frs Ignatius and Churchill, who joined our cathedral's community as assistant priests earlier in the year.
Anglican Archbishop of York Stephen Cottrell stopped by the cathedral on his spring pilgrimage through Salford, as shown in the image below. We were thrilled to show him around and to gift him some of our Volition honey, made by Salford Cathedral's bees and jarred by our Volition volunteers.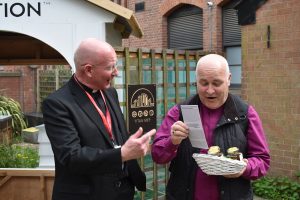 Summer
In June, millions across the Commonwealth joined in celebration of Queen Elizabeth II's Platinum Jubilee. UK streets erupted in displays of Union Jack bunting and hundreds of thousands watched the royal parade in London. Salford Cathedral joined in with the festivities, hosting a Platinum Jubilee Afternoon Tea in our Cathedral Cloister. We were thrilled to see so many parishioners turn up to the event. About 100 people joined to honour this special weekend as a parish community, raising £400!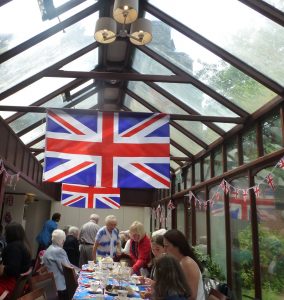 Our assistant priests Frs Ignatius, Churchill and Basil presided over Quarant'ore during the summer – 40 hours of continuous prayer before the Blessed Sacrament. This was a great opportunity to find peace in the Eucharist.
We were also privileged to celebrate the silver jubilee of Canon Michael's priestly ordination this year. Our whole parish community came together to mark this occasion in July, thanking Canon Michael for his 25 years of service.
September brought sad tidings as Queen Elizabeth II passed away. Salford Cathedral joined the nation in mourning the death of Queen Elizabeth II and praying for her eternal rest. Our cathedral hosted a Requiem Mass, led by Bishop John and opening a book of condolence for parishioners and visitors to sign, expressing their thanks and loss for the beloved monarch.
Autumn
Autumn arrived with a special visit from the relics of St Bernadette on their tour around England and Wales. People queued out of the door to spend prayerful time with St Bernadette, with thousands spending a bit of their day in our atmospheric cathedral. This wouldn't have been possible without the help of volunteers from our parish. In the photo below, Canon Michael anoints a worshipper with holy oil during the relic visit.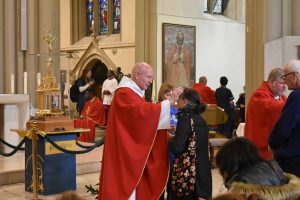 Autumn also brought the beginning of Phase 1 of our Cathedral Restoration Project, with work on the exterior being carried out by Simpsons of York. Phase 1 consists of external works, including masonry repairs, repointing and the installation of a new lighting system. This phase will take place from September 2022-April 2023. The cathedral will then close for Phase 2, the internal restoration and redecoration, which will be completed by December 2024. During this time alternative accommodation for the Cathedral Parish will be provided. Read a detailed breakdown of the works here.
Salford Cathedral Music Foundation received a generous grant of £16,000 from the Cathedral Music Trust this year. The grant was officially presented to Bishop John in October at Mass, as pictured below. This was a fantastic validation of the hard work of our music staff and singers, who contribute so much to our worship. The grant will be used to support our choral scholarships over the next year as well as investing in new sheet music as we continue to diversify our range of choral music. The grant will also enable us to expand our work in providing tuition for children and young people on the piano and organ.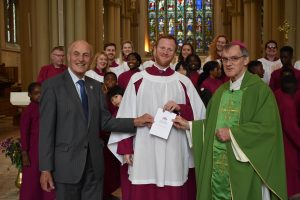 November brought the installation of our very own Canon Michael to the Cathedral Chapter, as well as Rev Canons Michael Job and Paul Daly. This installation was carried out by Bishop John at Midday Mass, with the families and friends of the new canons attending.
Winter
Our annual Christmas Fayre took place on the First Sunday of Advent. A day of festive fun was had by all, with thousands of pounds raised for our parish! Just before Christmas, we held our popular Carols by Candlelight service. Our cathedral was packed with festive cheer as we heard a wide variety of carols from across the world, sung by all of our cathedral choirs.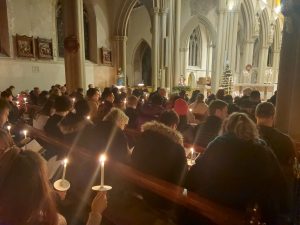 We'd like to give thanks to all of our cathedral clergy, staff, and parishioners who continue to make Salford Cathedral a worshipful, joyful and charitable community. 2023 will bring great change for all of our community as Phase 2 of our Cathedral Restoration starts, but we know our wonderful parish community will pull together, serving each other with joy, with our eyes on the restored glory of our cathedral to come.