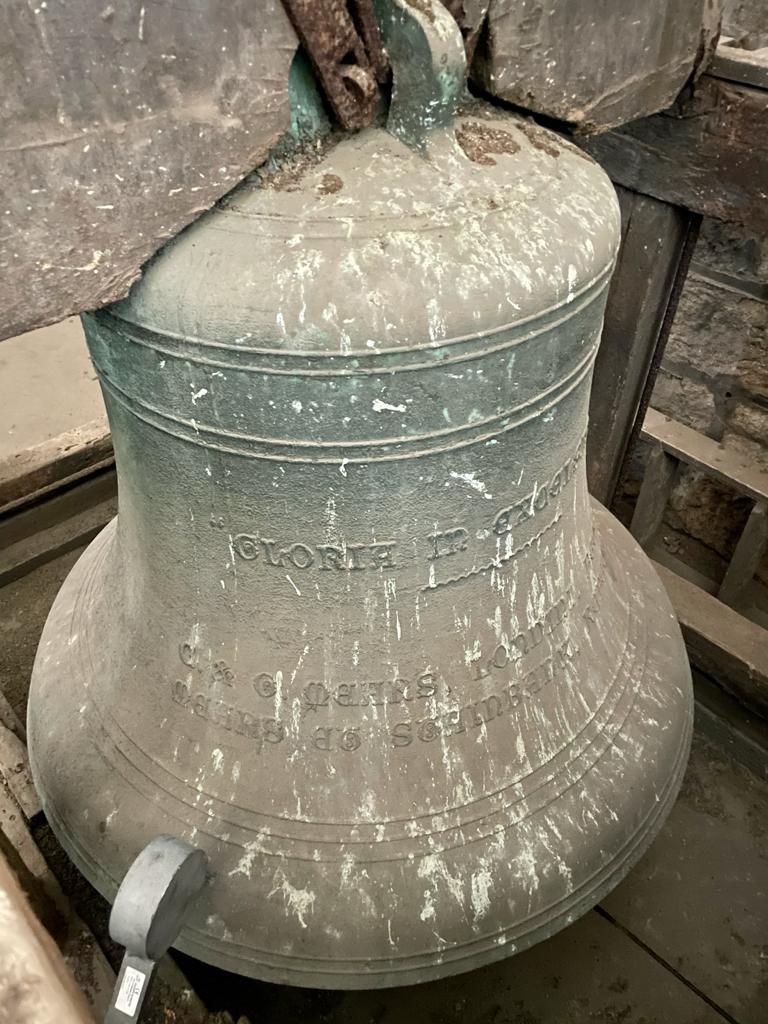 Recently work was completed on the installation of a new automated tolling system. The original bell, installed in 1848 was recast in 1903 and is still in good working order. The bell's supporting ironwork and canon straps (straps of iron circling the top of the bell) have been descaled and repainted and a new electromagnetic external hammer has been fitted. The new hammer is connected to an Angelus tolling unit in the cathedral which has been programmed so that the bell now rings the Angelus at noon and 6pm each day.
The new system also enables us to ring the call to Mass for five minutes before each Mass at the cathedral. The unit also has a wireless toll button so that the bell can be rung during the consecration by the altar servers. This is currently done via a chord which runs from the pillar next to the main altar directly to the bell itself.
The bell weighs a whopping 877kgs, rings an F# note and bears the inscription:
"Gloria in excelsis deo" C. & G. Mears, Londini, Fecerunt, 1848. Mears et Stainbank , Refecerunt, 1903.
Fecerunt from the Latin for 'form', refecerunt meaning 'reformed'.
John Taylor & Co, who undertook the work inform us that the bell tower was originally built to hold a peel of bells, rather than just the current single bell. The company will now assist us in locating a suitable peel of bells that can be installed in the cathedral at some point in the future.