On Sunday 9 October, our Cathedral Music Foundation received a generous grant of £16,000 from the Cathedral Music Trust. This is a fantastic testimony to the diverse range of sacred music we have at our cathedral, and to the musical renaissance we've undergone over recent years.
We now have an active Cathedral Choir, Children's Choir, Cambiata Boys' Choir and Girls' Choir, as well as our Cathedral Music Group. The Mass on Sunday was a fantastic opportunity to hear all our choirs in action, showcasing their wonderful musical gifts.
2022 has been a transformative year for the music department thanks to the introduction of our new Choral Director, Kathryn Bradley. This has enabled us to strengthen our offer to the children and young people of Salford through our choirs for children and young people.
We've got such an enthusiastic bunch of young singers at the Cathedral, and we're always on the look out for more to join our choirs for children and young people.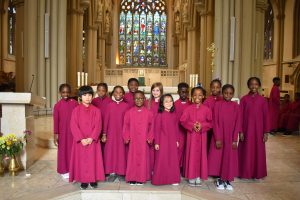 Children's Choir
for 8 – 12 year olds
Tuesdays, 4.30pm – 5.30pm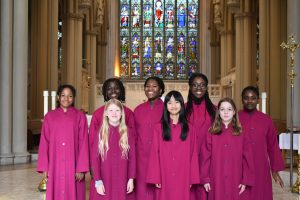 Girls' Choir
for girls aged 12+ with developing voices
Tuesdays, 5.30pm – 7pm & Fridays, 5pm – 6.30pm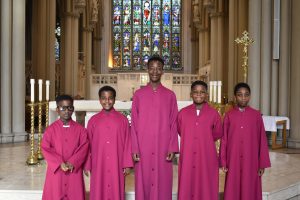 Cambiata Boys' Choir
for boys with changing voices
Mondays, 5pm – 6.30pm & Thursdays, 5.30pm – 7pm
As well as joining with our Cathedral Choir to sing for special events, these choirs often perform on their own.
Singing in a choir as gives children so many life skills, from building confidence, learning to be part of a team, paying attention to detail, taking care of others and building a strong sense of identity during a period of their lives which can be a bit of a whirlwind.
Cricketer, Alastair Cook, was once a chorister at St Paul's Cathedral and said 'there is absolutely no doubt the experience made me the cricketer I became. We were expected to learn quickly about the power of concentration and performing under pressure… you're expected to be a team player, to commit to a common creed of dedication and self-discipline.'
If you know a child or young person who would like to join one of the choirs, please get in touch with our Director of Music, Alex Patterson, by emailing alex.patterson@dioceseofsalford.org.uk or 07792618634.