Over July, we shared a series of fascinating historical images of our cathedral through the ages as part of our ThrowbackThursday series. In this article, we'll show you the entire series, as well as an unexpected find from the cathedral archives!
We began the series with a print showing the proposed Victorian interior for the cathedral in the 1840s. Can you imagine how peaceful this space would have been in industrial 1800s Salford?
The next week, we shared a lovely print made in 1899. Despite over 100 years passing, the exterior of our cathedral is just as ornate and impressive!
This photo from 1900 shows the magnificence of Salford Cathedral's former high altar. Much of this decoration was lost throughout the late 1900s, but our Restoration Project aims to bring back some of this former glory.
This picture shows Chapel Street in 1930! Did you know that Chapel Street was the first street in the world to be lit by gas lamps?
The following week  we shared a photo taken in the 1930s, showing members of the clergy standing outside the door to our cathedral's Blessed Sacrament Chapel.
This photo, taken in 1938, shows the removal of some sixty feet of the cathedral spire. By 1934, the Cathedral's spire was found to have strayed from the perpendicular and the Civic authorities ordered that it be shortened. Despite this, our cathedral still has the tallest spire on the Manchester skyline.
Here have a fantastic picture of the Crossing Sanctuary from 1971/2! This photo was taken soon after the reordering of the cathedral, in line with Vatican II reforms. If you look above the altar, you can see the corona (metal crown) that once hung above the sanctuary, and the pulpit to the right.
This image was taken in the 1990s, during Quarant'ore – 40 hours of prayer before the Blessed Sacrament. We think this photo encapsulates the powerful mystery and joy present in the Sacrament as it occupies a central space in the cathedral's old High Altar. We hosted Quarant'ore earlier this year – it's a continuing tradition at our cathedral.
This photo was taken in 1990 as we celebrated the centenary of the consecration of Salford Cathedral (1890). This shows the cathedral's clean and simple colour scheme at the height of its glory!
The series ended with this spectacular view of the Blessed Sacrament Chapel, taken in the early 1900s. You can see the huge painting that once covered the wall behind the altar, as well as the cast-iron railings and ornate pulpit on the right.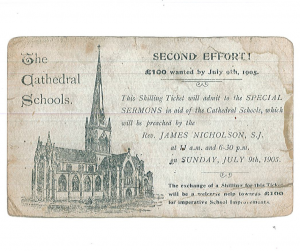 Finally, we'd like to share a special find from the cathedral archives – a ticket to special services to raise money for the cathedral schools, made in 1905. This shows how important our parish schools have always been to the mission and ministry of our cathedral.
We hope you've enjoyed this photo series! If you have any historical photographs of the cathedral or past clergy to share, don't hesitate to let us know at:
communications@salfordcathedral.co.uk