On Sunday 24th April, we held an information session for Phase 1 of our Restoration Project. This phase concentrates on the external cathedral work.
The information boards that were on display in the cloisters are now in the cathedral, to the right of the entrance (behind the desk).
Read more about the works that will take place throughout Phase 1 (2022-23) below.
Phase 1 of our restoration project concentrates on the external Cathedral work.
Phase 2 of our work relates to the internal Cathedral work.
The work that will take place will be:
Repairs:
The refurbishment of the roof and the introduction of insulation below the new roofs.
Structural repairs and improvements to the tower.
Repair and replacement of the external walls, windows, doors, and rainwater goods.
Why these Repairs?
Large parts of the Cathedral are in poor condition. The repair is necessary to prevent further deterioration to the Cathedral. The work to the interior of the Cathedral (Phase 2) cannot start until the building is watertight.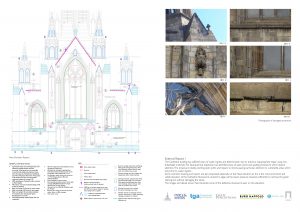 Our recent inspection report identified sections of the existing roof that require re-roofing. The nave roof, for example, is not under-felted, presenting the risk of water ingress into the building.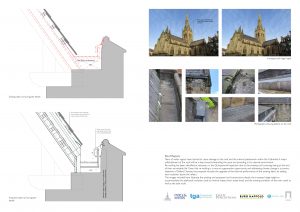 All replacement work will be done in a like-for-like material or will replace modern repairs not in keeping with original look of the Cathedral.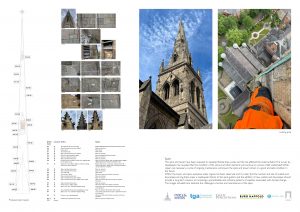 Parts of the roof are uninsulated and does not help us heat the Cathedral in the most efficient way. The refurbishment will help us on our journey to be the most sustainable Cathedral in the UK. It will also provide long term solutions to increasingly unpredictable and extreme patterns of weather associated with climate change.
Additional Glazing and Lighting Scheme:
The introduction of secondary glazing to all windows in the Cathedral.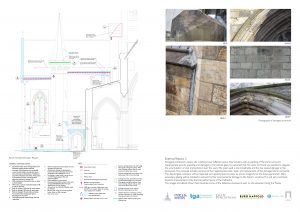 By introducing additional glazing to our existing windows, we will protect the glass for the future and address heat loss from the building.  The look of the windows will be maintained.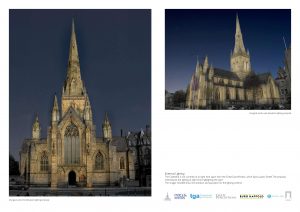 A team has been working carefully to develop a new lighting scheme that will light the Cathedral and spire at night time.
All the steps will help us to restore some of the original design features that have been lost over the years and help us become a sustainable Cathedral for future generations.
You can read all the details of the work that is being proposed for the external restoration here: https://catholic-historic-churches.org.uk/applications/north-west-1148
If you have any further questions or would like to submit any feedback please fill in this form or email communications@salfordcathedral.co.uk 
You can follow our restoration journey by checking for regular updates on this website.
A further information day will take place on Sunday 26th June about Phase 2 of the Restoration Plan.