Now our Cathedral Restoration Project has begun, we will be providing monthly updates on its progress. Keep an eye on our website to stay up to date!
Our Commitment to Sustainability
We aim to make Salford Cathedral the most sustainable cathedral in the UK. This will involve the use of the most up to date technology and providing long term solutions to increasingly unpredictable and extreme patterns of weather associated with the climate emergency.
Our cathedral was built at a time when energy was cheap, materials were readily available and sustainable development and construction were unknown. The building is therefore poorly insulated, allows air (hot and cold) to move freely in and out and does not properly represent the sustainable aspirations of the Diocese of Salford and the wider Catholic community.
Sustainable initiatives being explored by the design team include the installation of insulation across the whole roof, the installation of an insulated floor slab and underfloor heating, the installation of secondary conservation glazing, the potential for ground source heating (vertical bore holes) and the use of sustainably sourced and durable materials.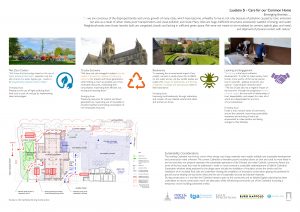 The main aim of the internal restoration is to conserve our cathedral, renewing its interior and ensuring our sanctuary in the city is fully sustainable and a source of spiritual inspiration for future generations. Follow our restoration journey at our website and keep up to date with the latest news on Facebook, Twitter and Instagram.
Read more about our current external repairs here and our upcoming internal redecoration here.